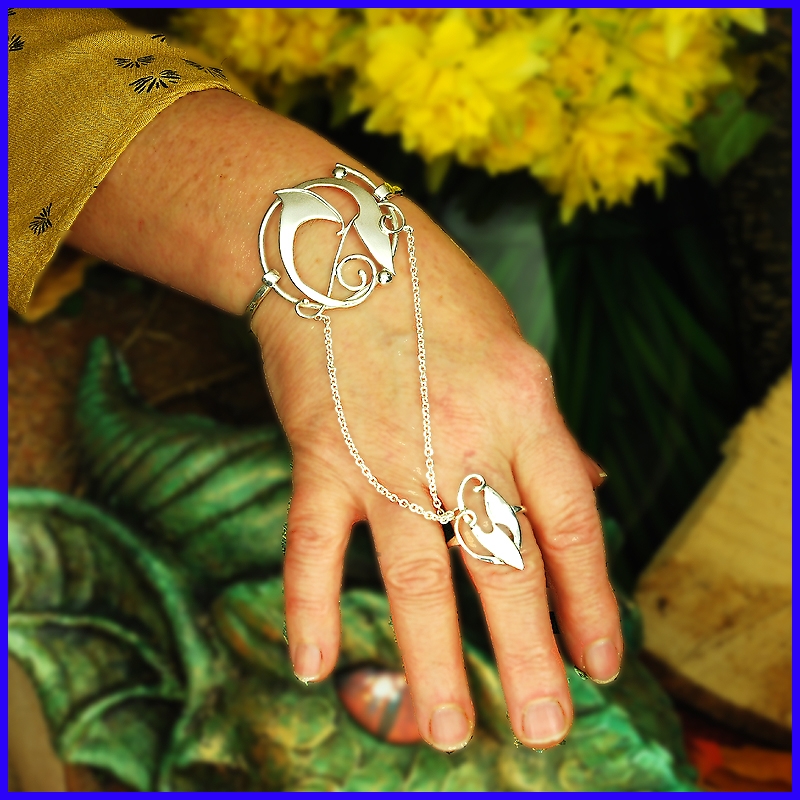  
Art nouveau silver hand set
Witch bracelet in solid silver 950 thousandth and handmade. Designer and handmade jewel. Limited to 8 pieces.
Bijoux de créateur et faits-main

Bijoux en argent pur (950/1000)

Paiement sécurisé (Visa, Mastercard ou Paypal)
This art nouveau ring bracelet made of wire and chain plates is limited to 8 numbered pieces. As the jewel is entirely handmade, each piece of the series is a little different.
The pattern of the bracelet is 4,5 cm long and covers the hand on 4,5 cm, the ring is 3 cm long, has been made of solid silver 950/1000 for 29 gr 51.
To order this bracelet-ring, you need to :
1: put the size of the finger (middle finger) on the site.
After having looked at the explanatory drawing of the hand send us the measurements on
ateliergaladrielle@orange.fr
1 : the size of your wrist (between 15 and 25 cm) add 0,5 to 1,5 cm to the measurement.
2 : the length of the back of the hand, from the top of the wrist to the base of the middle finger with the hand closed (between 7 cm and 12 cm).
Openable bracelet (the bracelet can be opened on one side, press on either side of the band to flip the top of the bracelet).
This designer jewel was hand forged by the Galadrielle workshop, a jewellery craftsman. To create this original creation, the jeweller first made sketches and drawings before assembling silver plates and wires that were cut and then soldered together. To make the jewel precious and shiny, it was completely polished by hand.
Art creation made in France (South Burgundy) Galadrielle workshop.