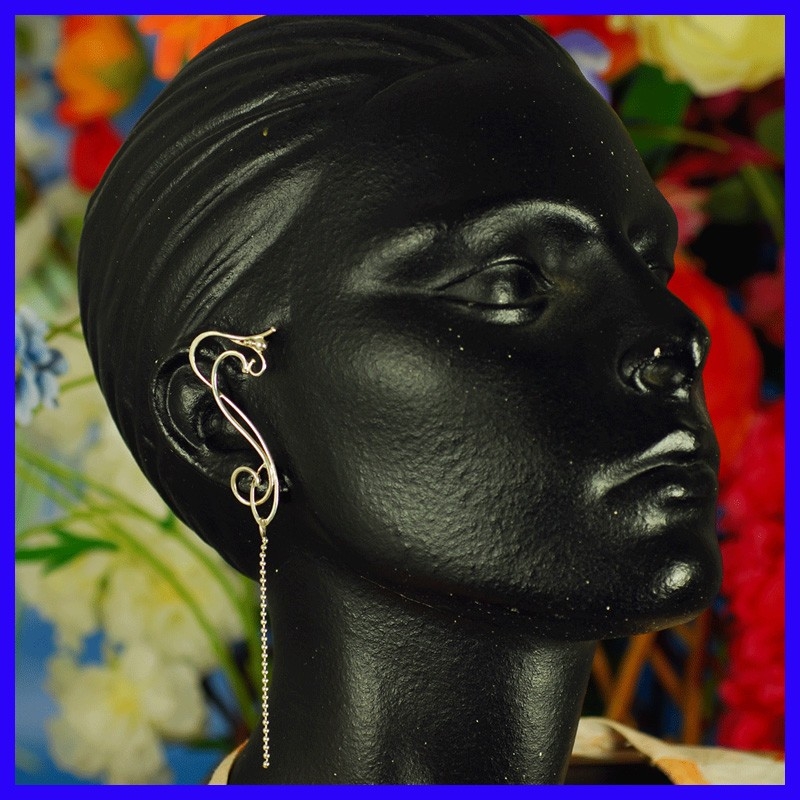  
Silver earring
Silver earring. Jewel of creator and artisanal. 8 pieces limited.
Bijoux de créateur et faits-main

Bijoux en argent pur (950/1000)

Paiement sécurisé (Visa, Mastercard ou Paypal)
 This amazing pair of earrings made for one of a earring with a ball chain and for the other a buckle recalling the pattern both in solid silver 950/1000, is limited to 8 numbered pieces. On the picture the set is for a right ear, (order for the earring, left or right).

The design of this Frank Frazetta inspired jewel is 12.5 cm high with the chain for a weight of 4gr 43 for the earring and the design of the earring is 2 cm for a weight of 0gr 56. They are entirely handmade, each copy of the series is a little different each time.

For this science fiction earring it is necessary to have the ears pierced to wear it (please contact us at ateliergaladrielle@orange.fr to specify the measurement of the space between the earring fixing hole and the place where a bezel branch is placed). The fastening system is a silver rod with a Belgian stroller, also made of silver and a rod that rests on the top of the ear.

This designer jewel was forged by hand by the workshop of Galadrielle, a jewellery craftsman. To shape this original creation, the jeweller first made sketches and drawings before assembling silver plates and wires that were cut and welded together. To make the jewel precious and shiny, it has been completely polished by hand.

Art creation made in South Burgundy from Galadrielle's workshop.