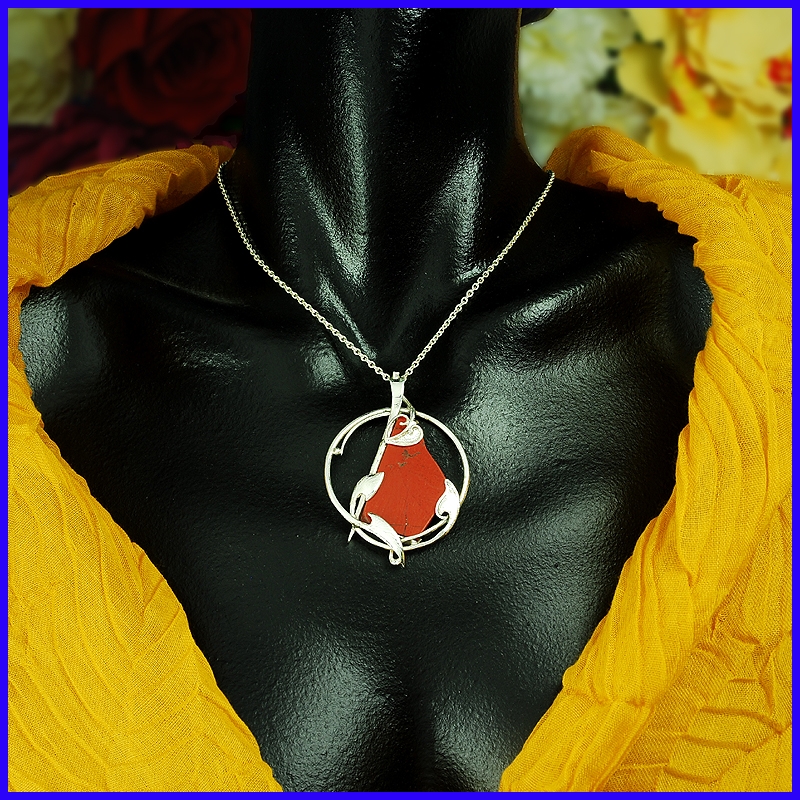  
Broceliande. Silver and Red Jasper Pendant
Silver and red Jasper pendant. Designer and handmade jewel. Unique piece.
Bijoux de créateur et faits-main

Bijoux en argent pur (950/1000)

Paiement sécurisé (Visa, Mastercard ou Paypal)
 This spherical designer pendant with a red Jasper, has been entirely handmade, it is a unique piece. It is part of the Trésor Minéral collection.
This pendant of about 6 cm by 4,5 cm is made of solid silver 950/1000. The weight is 12 gr 28 (without the fine stone). The jewel is sold by default without chain, you can add a silver chain of 50cm (diamond forçat or ears or rope).
This designer jewel has been hand forged by Galadrielle's workshop, a jewellery craftsman. To create this original creation, the jeweller first made sketches and drawings before assembling silver plates and wires that were cut and then soldered together. To make the jewel precious and shiny, it was completely polished by hand.
The pendant is topped with a fine stone, a red Jasper in a triangle of 4cm by 3 cm.
Jasper is of sedimentary or volcanic origin and contains clay. Jasper can have several aspects: mottled, banded, red, black etc. Jasper has a wide range of natural colours, so no colour is impossible for jasper. Each piece is almost unique.
Hardness of 6.5 -7 on the Mohs scale.
Jasper is extremely widespread in the world.
Due to the different light and screen settings, the colour of the stone may differ slightly from the images.
Art creation made in South Burgundy Galadrielle's workshop.

Data sheet
Stone

Fine stone